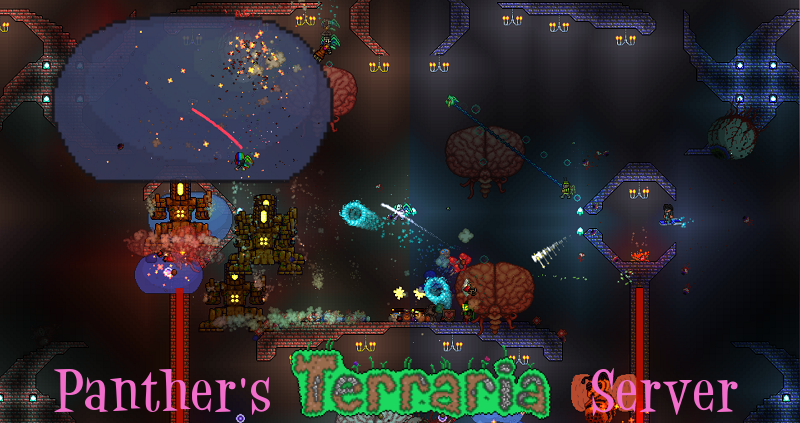 Panther's Terraria server is a free-for-all server with a highly cusomised classes and rank system that invites players of all kinds to come and play!
Soul Shards and The Shop
We use Server Side Characters (SSC) on Panther's Terraria Server, long with that we have sEconomy that provides players with a cheat proof, server side currency as well. This currency has many uses such as casting spells, leveling up and buying items for your character from the world shop.
(/bank and /shop)
Classes
All players start off at level 1. After play for a little while, killing some monsters and leveling up all players can choose from 1 of 6 classes at level 20 and continue to level up all the way to level 100. As the player levels up they will gain access to new commands/spells and the ability to wear their class bassed items.
(/rank up)
Free build and House Regions
All new players are free to build anywhere they like (as long as someone else hasn't claimed the land first) and protect their building with our House Regions plugin.
(/house define)
Events
Throughout the day there the server is host to a number of customised boss battles and invasions so there is always somethign exciting going on.
Regenerating World
Each month the map resets and every few hours all unprotected/damaged areas regenerate so the server doesn't get ruined for everyone. On top of the regenerating world, all pre-existing chests will automatically have their contents refilled after 1 hour.
Friendly Environment
We have many Moderators on the server that work to keep the greifers/trolls out as well as help out all the new players. Further to that, we have a chat filter to filter out any bad words so the server can be rated E for Everyone.
Click Here To Join Now!