Terraria State of the Game - August 2023
Posted on August 31st, 2023 01:08 PM EST

Greetings Terrarians!
Back to school time already? Whether you are already back, heading back, or glad to have school way back in your personal rear-view mirror; there is always time for the latest Terraria news! Our teams have been working feverishly all month, adding new goodies to the game and balancing and fixing what already exists. Beyond that, we saw three product launches in the month of August - busy times! You will definitely want to dive deep into this State of the Game, as there is a good bit of juicy and important information to cover. Fall is right around the corner, and it is one of our favorite times of the year. Who knows, maybe we will see a return of the always-popular Terraria Halloween Contest...
Without further ado, shall we get right into all things Terraria?
PC - RE-LOGIC
TERRARIA 1.4.5 - TUNES, TIMING, AND NEW ADDITIONS
The team playthrough has come and gone. I don't think anyone will soon forget their time in The Mad Realm of Boulders! Fun was had, TONS of notes were taken, and the benefits of this playthrough are already being seen in the work on Terraria 1.4.5.
Speaking of time, we have an update on timing for everyone. As we started to check off what work remained on the update, we realized that we would really have been remiss to not cover off some long-standing needs for new music. That's right, Terrarians, the 1.4.5 update will contain several new music tracks by our favorite composer, Scott Lloyd Shelly! How many exactly is still a bit to-be-determined, but we are anticipating at least 5 and maybe more! Want to check one of them out? Of course you do!
So, all that said, we mentioned an impact on timing - the production of all of these new tracks takes a good amount of time in composition, review, editing, etc. We are not going to rush Scott while he works on the latest in a long line of Terraria musical masterpieces. So, that means the update is going to take a bit longer to come out than we had originally anticipated. Now, before anyone gets too upset... the team realized that if we are having to wait on this music anyway, why not just keep the update development moving on our end and add even more goodies?!
What all will that entail? Well you will have to wait and see - but we have some pretty substantial ideas. How much we can get done will depend on how long the music takes. We are pretty confident everyone will be very happy with what we have in store and will feel like this was extra time well-spent. Can't show you too much too soon, though, so it will all be a mystery for now.

Oh, who are we kidding, you knew we were going to show something new. Are we sure it is safe to sit on this Aetherium Furniture, much less build a whole house using it?!
Anyway, we expect this extension to be in the scope of a few months at least - we will give a timeline as we get closer. In the meantime, rest assured that everyone will get a LOT more out of 1.4.5 than you ever expected.
STEAM WORKSHOP NEWS
Click the banner above to check out the Terraria Workshop!
We are creeping ever-closer to 100,000 packs/worlds in the Terraria Steam Workshop! You are missing out if you haven't taken the time to check out these amazing creations from the community.
NEW DEVELOPER'S CHOICE ENTRIES
Know what we haven't done in ages? Steam Workshop Developer's Choice! We have two awesome ones for you this go-round... and one of them is super clever. These have each been tagged and added to the Developer's Choice section on the Terraria Steam Workshop - congrats to both authors!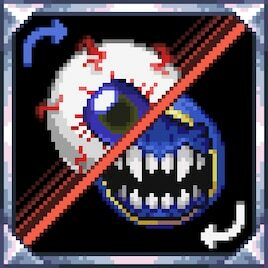 Boss Swap by Seasalt
We love this idea - funny and cool at the same time, we cannot wait to see the author finish out the rest of the bosses!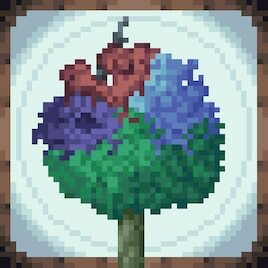 Backgrounds O' Plenty by Starlalaies
We quite literally were just discussing background diversity the other day... and then we saw this. A subtle but great addition to any playthrough!
WHAT ELSE IS GOING ON?
Music reviews, exploring tons of new ideas, reviewing Book Two Graphic Novel stuff.
TMODLOADER NEWS - TML TEAM
Hello everyone!
This month has flown by - with the release of 1.4.4 tModLoader at the start of August came a whole batch of mod updates and hot fixes. We hope you've been enjoying the 1.4.4 era of tModLoader! We are quite happy with how well the transition went from 1.4.3 to 1.4.4 tModLoader - it was so smooth we could call it a success! That said, if you are having issues of any sort, definitely don't hesitate to check out our
FAQ on github
[github.com]
or reach out to us at our
Discord
[discord.com]
.
As August comes to an end, we feel we are finally nearing cruising altitude and a return to normal scheduled updates. We have some exciting changes coming in September - including a Mod Browser Revamp... and still more improvements we've been wanting to make on the horizon while we set ourselves up for the future.
As always, we kindly request that we all respect modders' time and not hassle them about porting to 1.4.4. We are greatly impressed at seeing over 85% of all mods by subscriber count have ported to 1.4.4, but we continue to ask to please be respectful of those that have not. Thank you for your understanding.
TMODLOADER STEAM WORKSHOP

The TML Steam Workshop has over 5000 mods already! Coupled with the in-game mod browser, the TML Steam Workshop is a great way to explore what modded Terraria has to offer - check it out today by clicking the banner above!
WHAT'S NEXT FOR TML?
Now that 1.4.4 release is behind us, we are once again casting our eyes towards the future - not only getting ready for 1.4.5 (whenever that happens to arrive), but also building a stronger foundation for that future.
As always, you can keep track the current progress and much more in real time at
tModLoader/tModLoader
[github.com]
(But note that the completion percentage doesn't mean anything, because issues and PRs don't have weights.)
Developers who are willing to contribute may do so by doing PRs to the
tModLoader/tModLoader
[github.com]
branch. (See
tModLoader/tModLoader
[github.com]
)
PlayStation, XBOX, Nintendo Switch, Mobile - DR STUDIOS
Over on the Console/Mobile front, we continue to keep pace as best we can with the PC side of the house. It is a different sort of challenge from the old days of playing "catch up", and one we rather enjoy. Being able to bring new Terraria content to everyone all at the same time remains a primary goal!
Speaking of, how about a fresh never before seen Terraria 1.4.5 spoiler?
Yoyo's are evolving - nature always finds a way...
Until next time, Console & Mobile friends - thanks for all of your love and support!
COMMUNITY
​
Greetings Terrarians!
Here's the latest and greatest happenings on the Community side of things. Thanks as always for being the most engaged and awesome gaming Community ever!
TERRARIA MERCHANDISE STORE HUB ​
The merchandise hub is where you can find all of the latest and greatest Terraria merchandise - with new stuff arriving all of the time! Check out the latest merch drops as well as some classics and pick up that epic Terraria gift for a friend (or yourself!).
[terraria.org]
Click the banner above to head to
http://terraria.org/store
now!​
TERRARIA MERCHANDISE UPDATES​
TERRARIA x MADRINAS COLLABORATION

A few months ago,
Madrinas Coffee
[madrinascoffee.com]
reached out to the Re-Logic team to create some amazing coffees from the world of Terraria. Together we brought two unique flavors together inspired by the mysterious Dryad and the goofy-but-deadly Pigron – Wild Honey Cold Brew and Maple Bacon Whole Bean. The Terraria Team has been grinding through these coffees everyday and we hope you'll enjoy them too!
Limited Edition Collector's Boxes are still available, or you can pick up a single bag or a tub of your favorite in the link below!
MADRINAS x TERRARIA COLLECTION
[madrinas.coffee]
TERRARIA TEAMS UP WITH EIGHTY SIXED FOR AWESOME NEW MERCH

The amazing artists over at Eighty Sixed recently launched the first wave of their Terraria Collection. These unique designs put a new spin on Terraria clothing, posters, and more in a way that we have not seen in the past. They have much more planned, so you will want to keep an eye on what's next!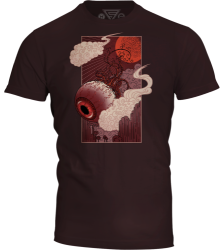 [www.eightysixed.com]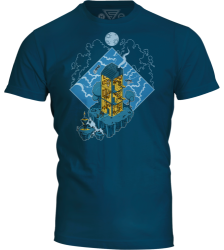 [www.eightysixed.com]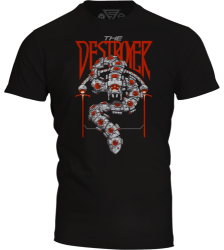 [www.eightysixed.com]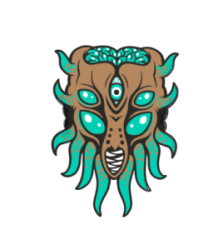 [www.eightysixed.com]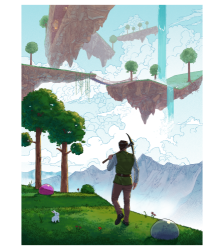 [www.eightysixed.com]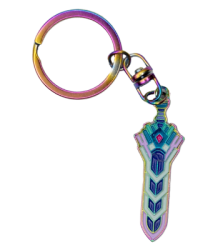 [www.eightysixed.com]
For full details of the first wave release, check out the link below - or click the banner above to see the Terraria Collection over at
https://www.eightysixed.com/
TERRARIA MERCHANDISE FROM EIGHTY SIXED - LAUNCH ANNOUNCEMENT
[forums.terraria.org]
NEW TERRARIA BIOME SERIES PIN FROM SANSHEE
After a brief hiatus, the Biome Pin Series from Sanshee is back with a brand new offering - the Ocean Biome! Featuring a dozing Angler, the Ocean Pin is a welcome addition to the Biome pin set.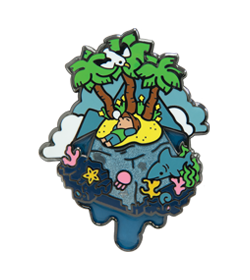 [sanshee.com]
Check out the entire Biome Series Terraria Pin Collection over at
sanshee.com
- and don't forget that preorders for King/Queen Slime Plush are still underway!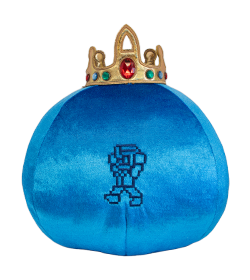 [sanshee.com]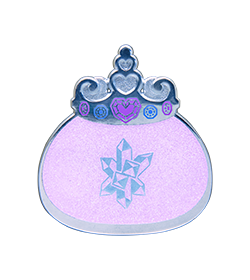 [sanshee.com]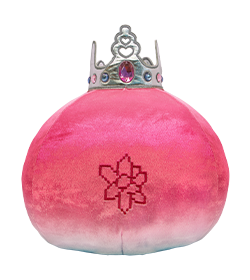 [sanshee.com]
TERRARIA - THE BOARD GAME UPDATES
TERRARIA - THE BOARD GAME DESIGNER DIARY
Here we are again with the latest "Designer Diary" entry from the lead designer for Terraria: the Board Game - Chris Kingsworth. Let's see what he and the Paper Fort team have been up to over the last month!
---​
Hello Terrarians!

Chris here, game developer at Paper Fort Games. I'm back with the next installment of the Terraria: The Board Game designer diary. This month's topics; how can we capture the sandbox feeling of Terraria on the tabletop, and what can we offer that can only be achieved in the physical world? Enjoy!
Freedom to Choose
Terraria is a game all about choice. If you want to run all the way to the ocean, you can (we've all done it!). Want to build a Hellevator? Go for it. Fancy mining every block in the world, or building beautiful things? No problem! With this in mind, it wouldn't be right to design a board game that dictates exactly what you have to do. Instead, you'll have control over how you play.

You'll be able to choose the objectives for each playthrough, all of which reflect achievements in the digital game. Complete lots of easy-to-achieve tasks, like surviving your first night or building your first house, or defeat bosses for big points and fantastic loot! Alternatively, aim somewhere in the middle; spawn every NPC or mine every block within a biome.

On your turn, freedom of choice will be reinforced by a flexible action point system. This isn't a game where cards dictate exactly what you have to do. Using your starting equipment, you'll be able to dig, chop and stab. Want to run over to that tree, chop it down, zip over to a slime and stab it? If you've got the action points to do it, you can! You can spend your points how you like; whether that's on a single endeavour or a variety of tasks. As you upgrade your equipment, the efficiency of your action points will increase. Perhaps you've forged an iron axe to replace your copper one; now you can dig more quickly and mine more efficiently.
Modular Miniatures and the 'Advent Calendar'
We realize that we're asking you to play a board game when you have the digital game at your fingertips, so let's talk about things we can do in the physical world that aren't achievable digitally. One of the reasons we hope you're excited to play Terraria: The Board Game is the boss 'advent calendar'.

Bosses are a big event in the videogame and we want to mirror that in the tabletop game. In the box you'll find a number of doors. Each door will display spawn criteria for a different boss. For example, each time you kill a slime, you'll be a step closer to the appearance of King Slime. When you hit the spawn threshold, you'll open the door and find a modular boss miniature, with rules for an epic boss battle. As you fight, you'll remove pieces of the miniature to track boss damage and reflect other status effects.
Here's an example of one of these miniatures; our WIP sculpt for the Wall of Flesh: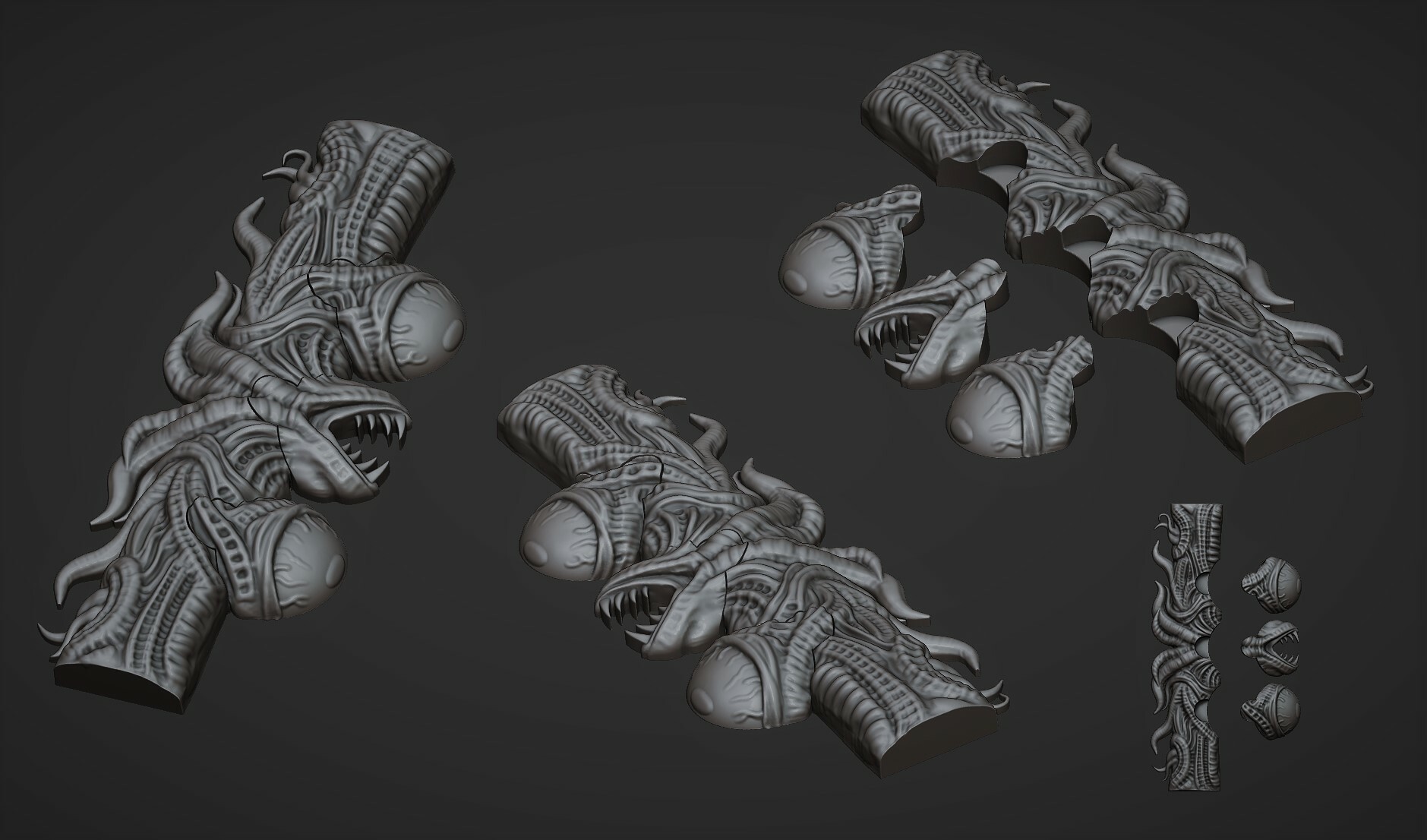 We're really looking forward to sharing more of these with you!Next MonthAs I mentioned last month, we're passionate about Terraria and its players. We're here to do the best we can and we want to bring you along for the journey by keeping you updated on what we're doing; that's one of the aims of the designer diary. In the next instalment, I'll talk about world generation and deckbuilding in Terraria: The Board Game.Don't Miss Out!If you haven't already, please sign up at Get Ready for ⛏ Terraria: The Board Game

[www.backerkit.com]

! and be sure to click through to the Kickstarter 'notify me' page. We'd be very grateful if you could share the link with fellow Terrarians via social media; you're always welcome to tag us in using @paperfortgames.

Until next time!

Sign up for the latest and greatest news on Terraria: the Board Game via the link below:

TERRARIA: THE BOARD GAME NEWS SIGN-UP LINK

[www.backerkit.com]

In case you missed the big reveal, be sure to take a minute to read our post about Terraria - The Board Game, which contains details about timing, how it will be sold, and more!

TERRARIA - THE BOARD GAME DETAILS
TERRARIA GRAPHIC NOVEL SERIES
The first reviews and revisions for the script for Issue 6 are nearing completion - and we just received the lineart/inks for the bulk of Issue 5 for review as of this morning. This keeps us on track to be able to deliver the next part of our epic Terraria adventure in the near future!
As in prior months, if you have any outstanding issues with your order from Issues 1-4, we do not want to miss the chance to take care of you (we have been able to take care of everyone that we know of thus far) - please reach out to
[email protected]
immediately so that we can take care of things ASAP. Feel free to let us at Re-Logic know via
[email protected]
(we have been able to help several folks) if you are having any issues as well, but the 50amp email above should be the best way to sort out any stragglers out there!
As for our sneak peek this month, let's take a break from all of these goblins and check in with an even more odd visitor...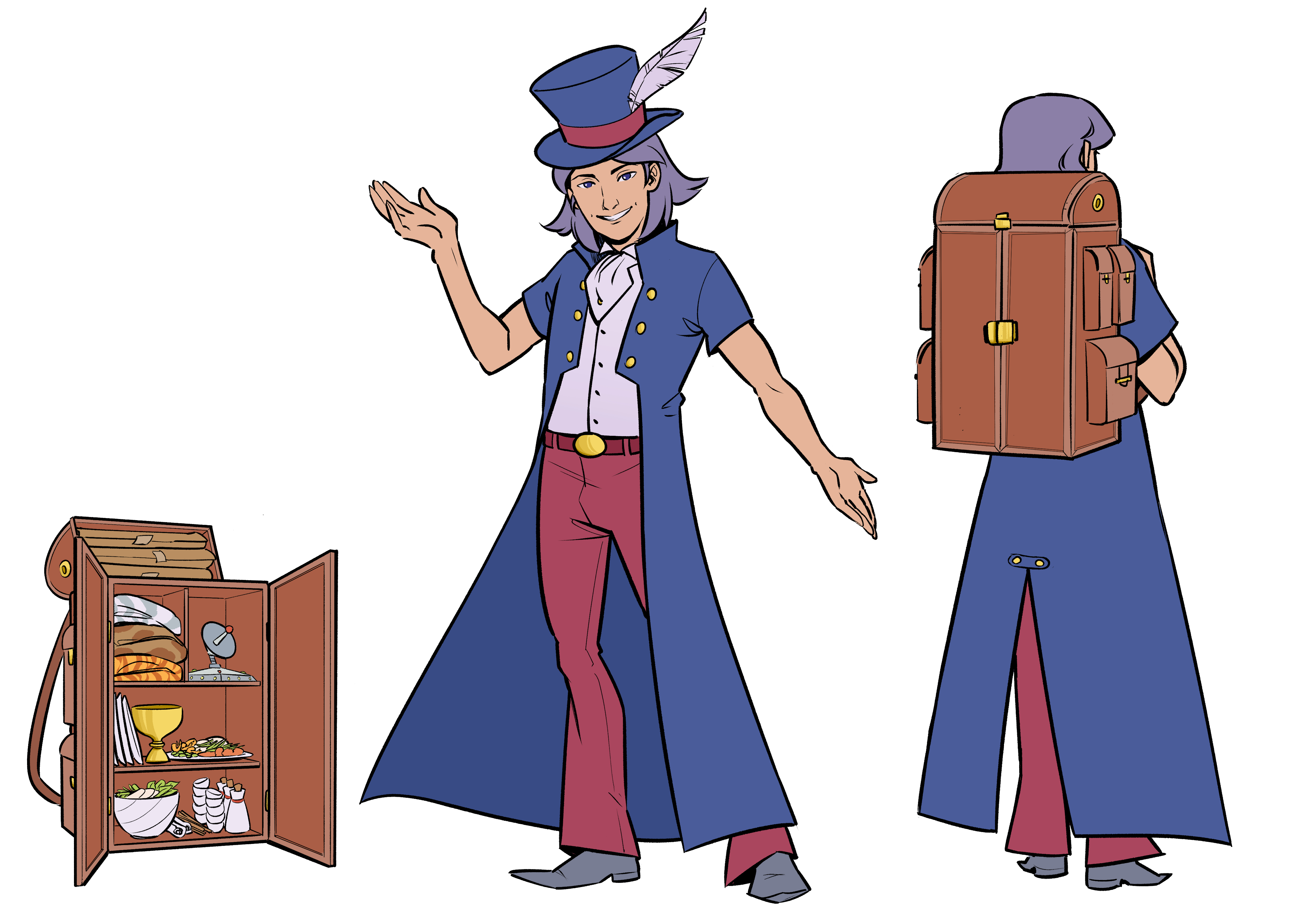 Who knows what mysteries lie within the Traveling Merchant's pack... and where does he come from anyway?
OTHER COMMUNITY NEWS
TERRARIA MEDIA SPOTLIGHT
The Terraria community is filled with incredible fan media. We love to browse Terraria associated social pages and check out the creative minds sharing wonderful creations. We wanted to spotlight some of the trending media that caught our attention this month. Please let us know if any of the shared media has a different original creator.
(CLICK A GIVEN IMAGE TO HEAD OVER TO THE THREAD WHERE WE SAW IT)
FAN ART & BUILDS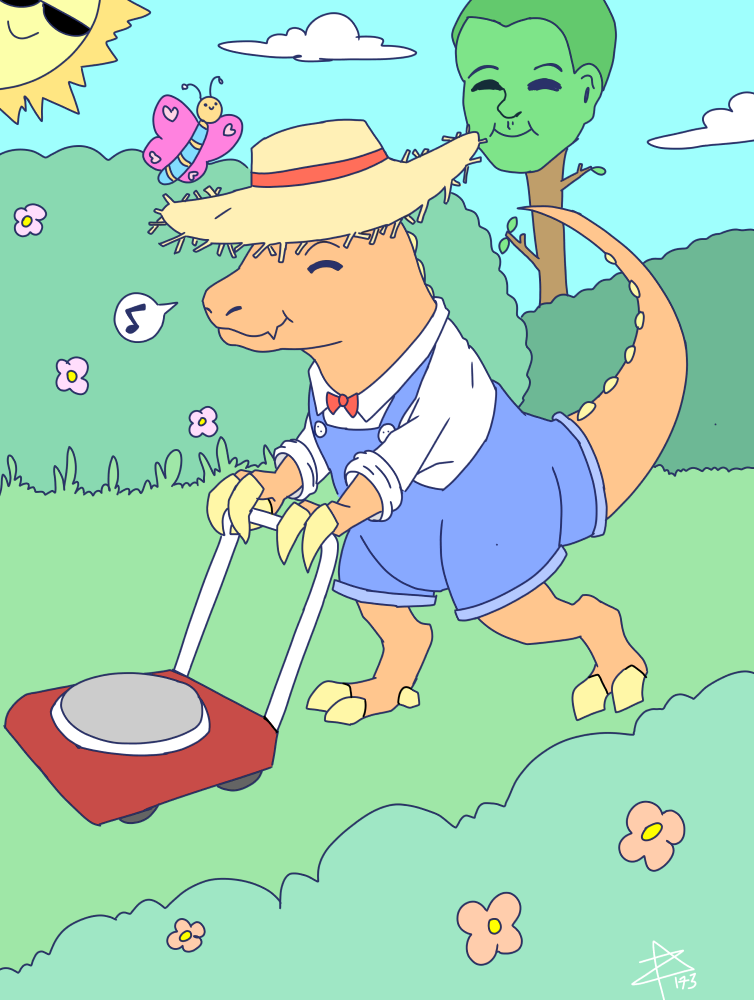 [forums.terraria.org]
Dino gardener by Zap173 ⚡⚡⚡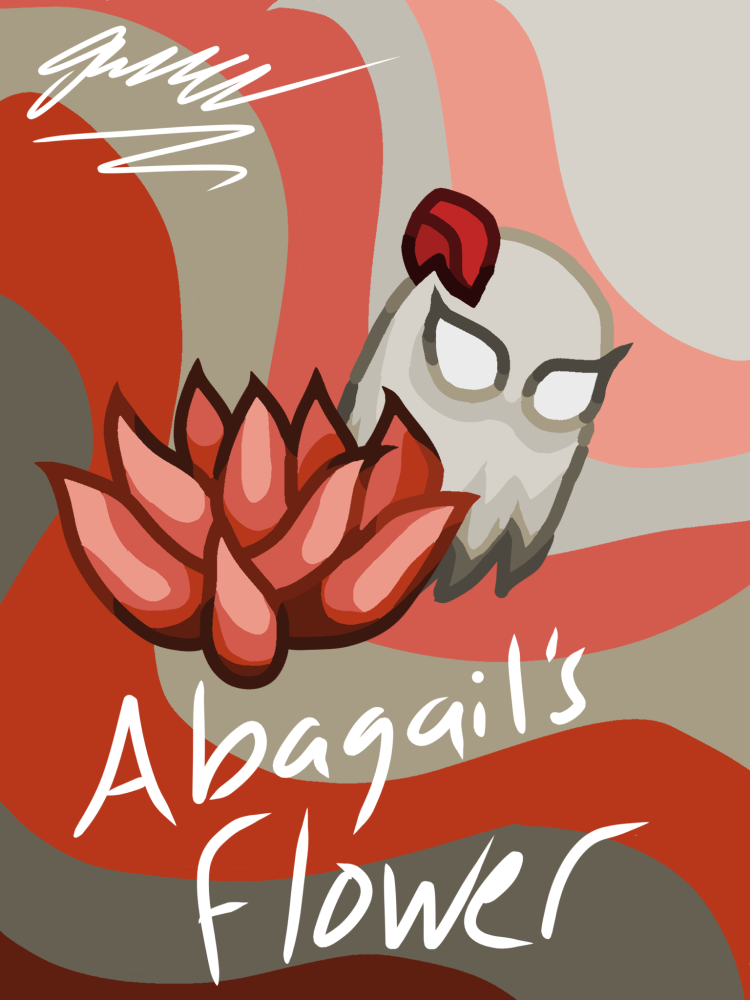 [forums.terraria.org]
Abigail's Flower by HollisV2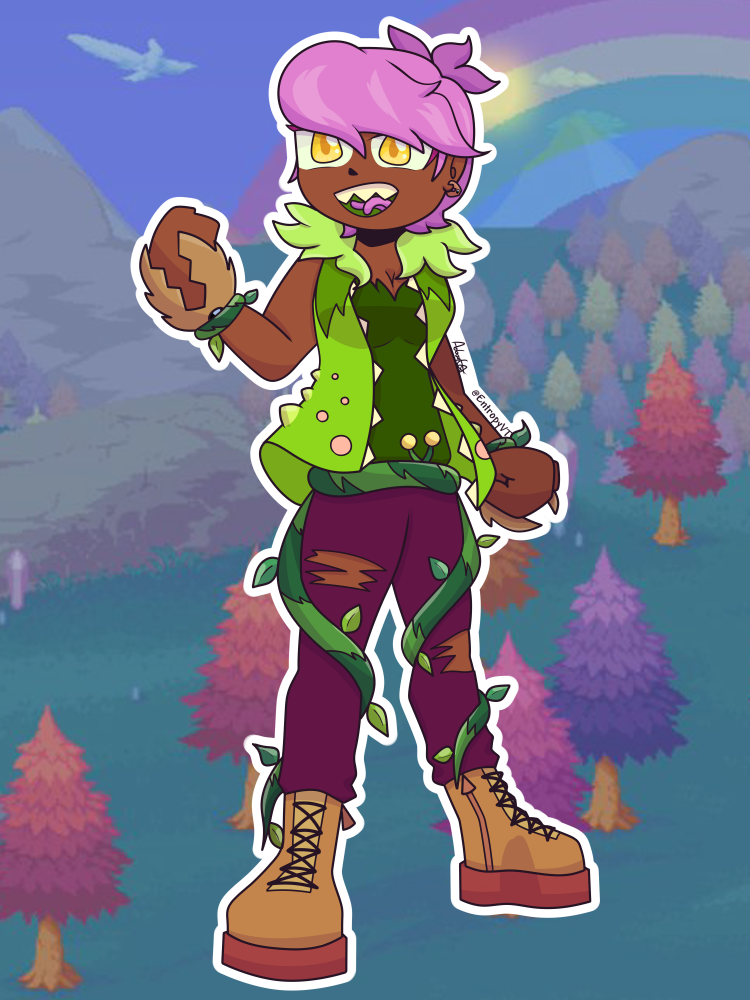 [forums.terraria.org]
Plantera by EntropyVT
Hogwarts! A Starter base and adventure map by Wardo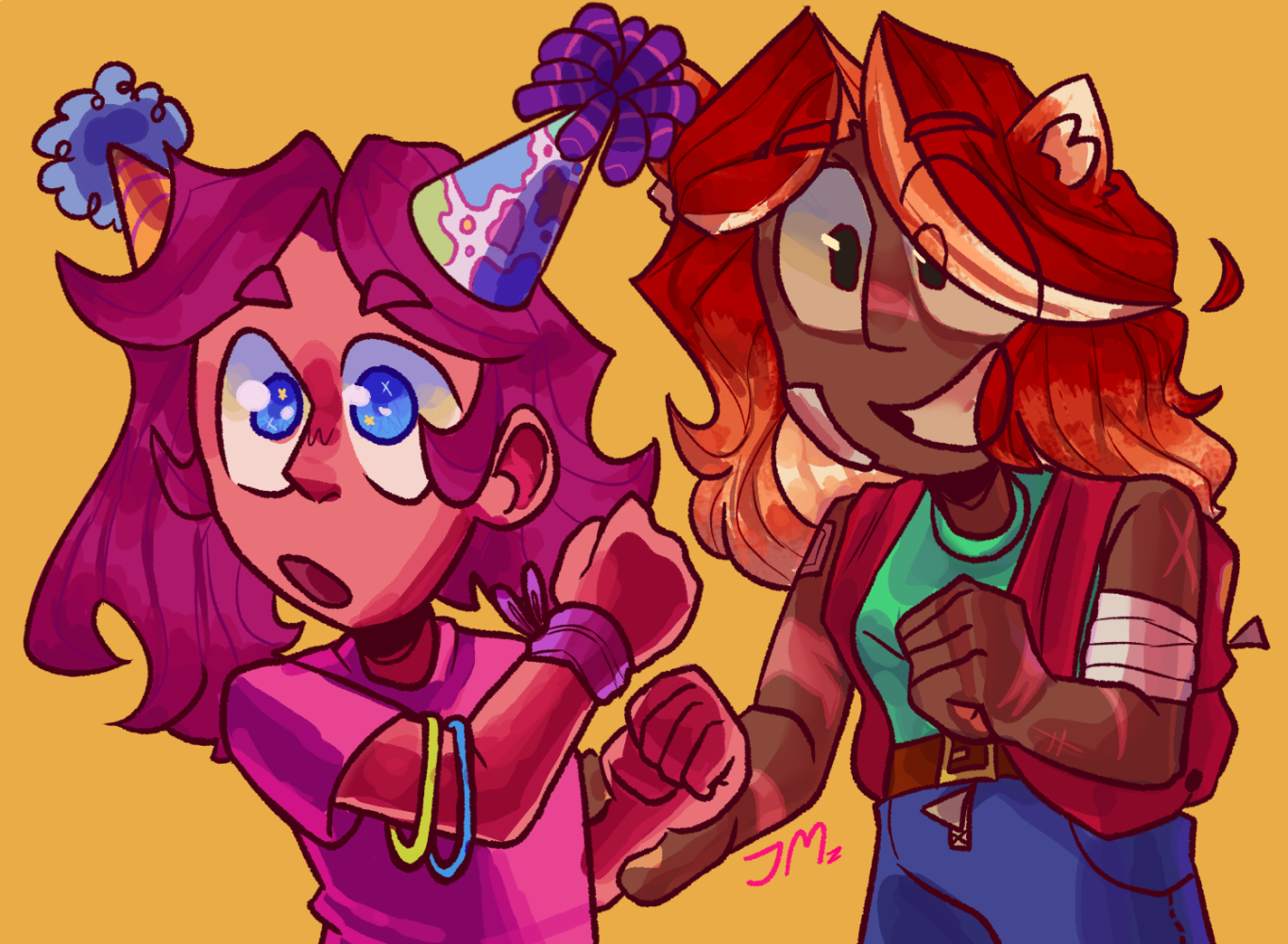 [forums.terraria.org]
Party Girl and Zoologist by @A_Mazarians_Boat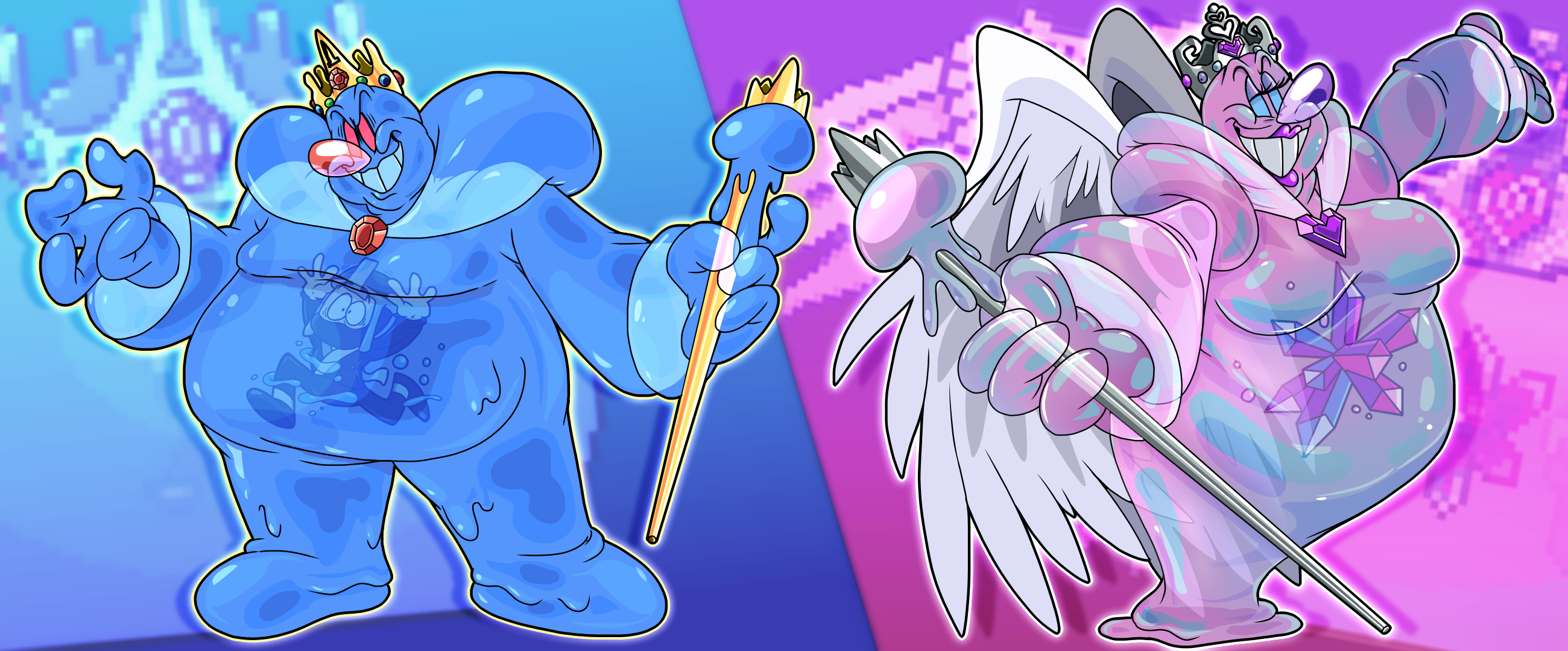 [forums.terraria.org]
King Slime & Queen Skime by PoundToundHound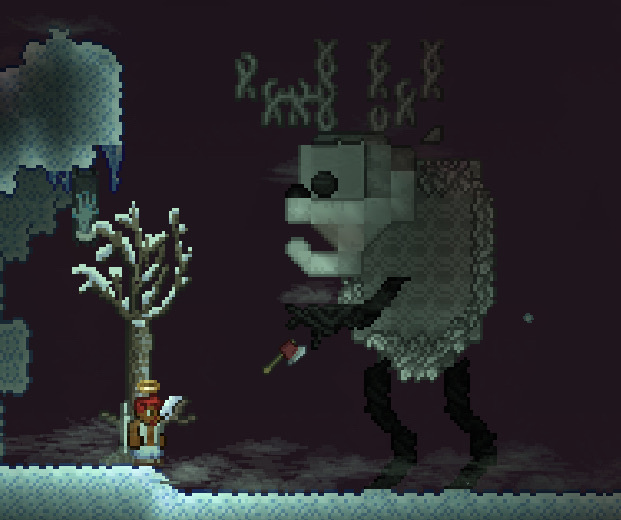 [forums.terraria.org]
Deerclops by HandsomeSquirrel🐿️🍉⭐️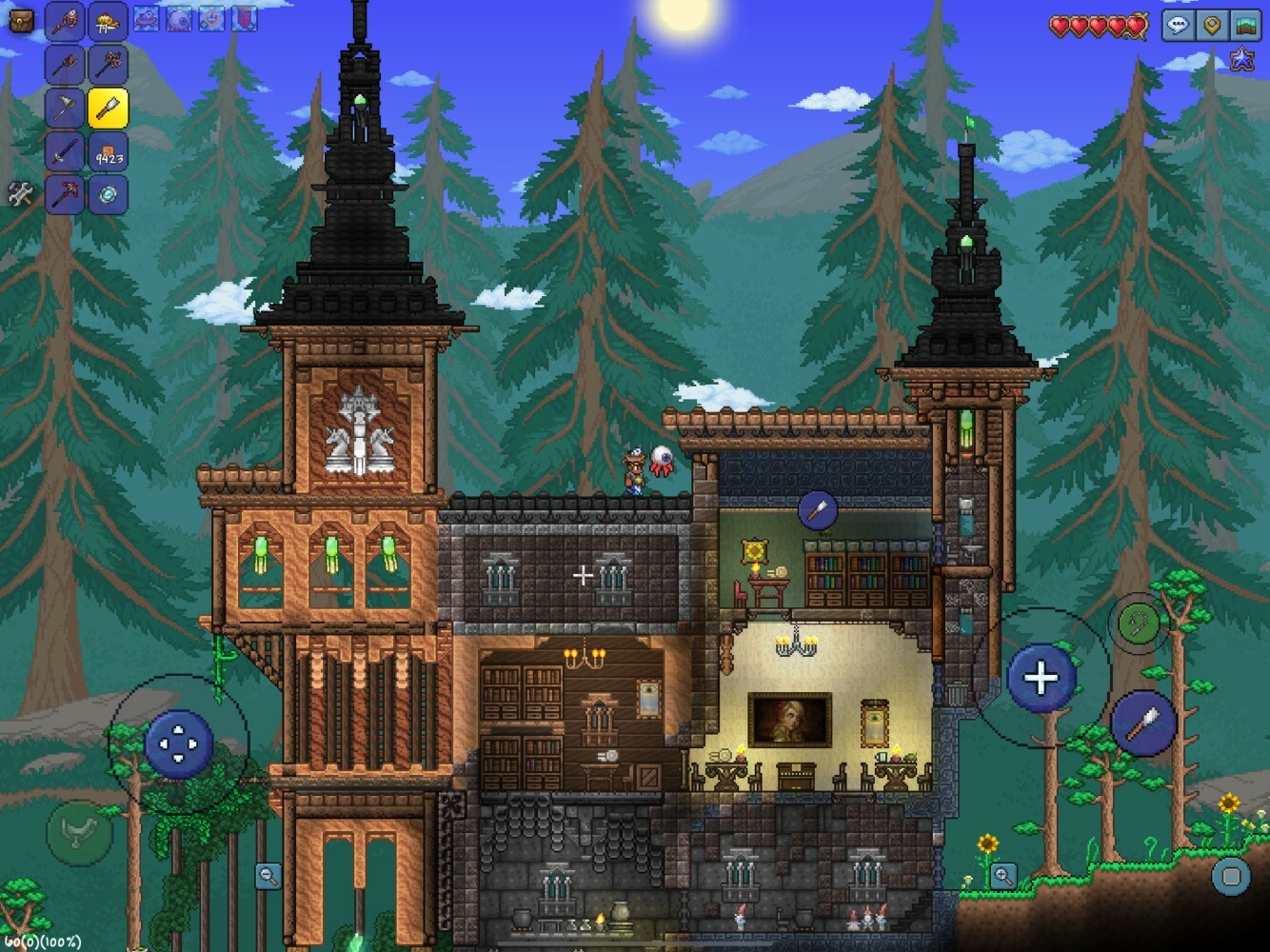 [forums.terraria.org]
Mansion for the Zoologist and Guide by greyliances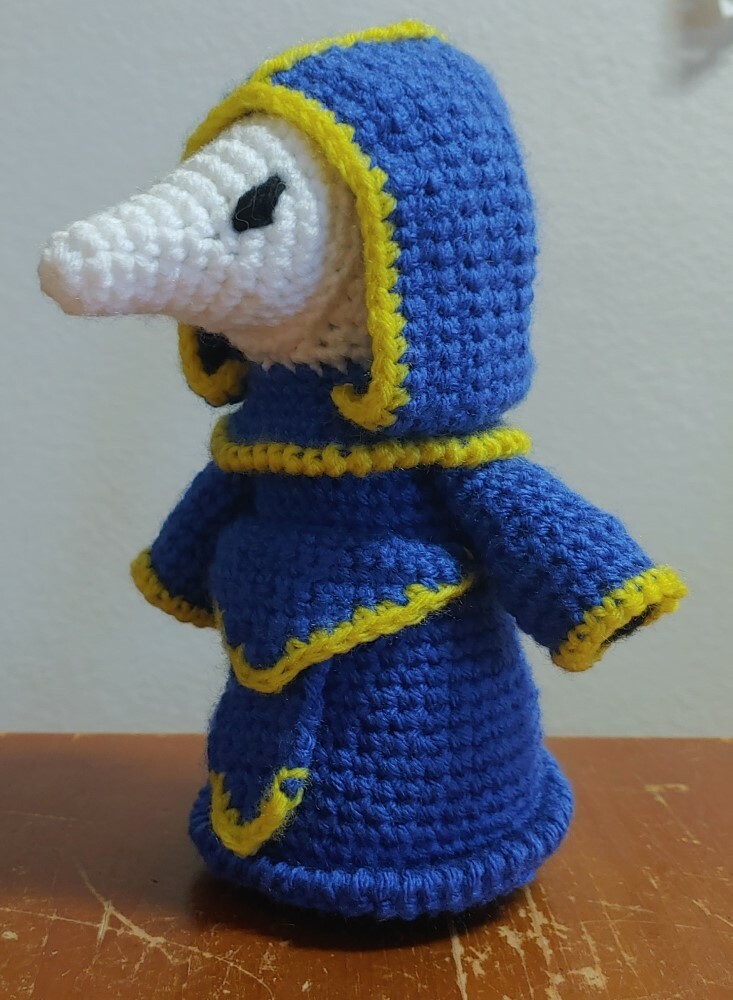 [forums.terraria.org]
Crocheted Lunatic Cultist by StarsAndStuff
Terraria NPCs by BloodyArt1st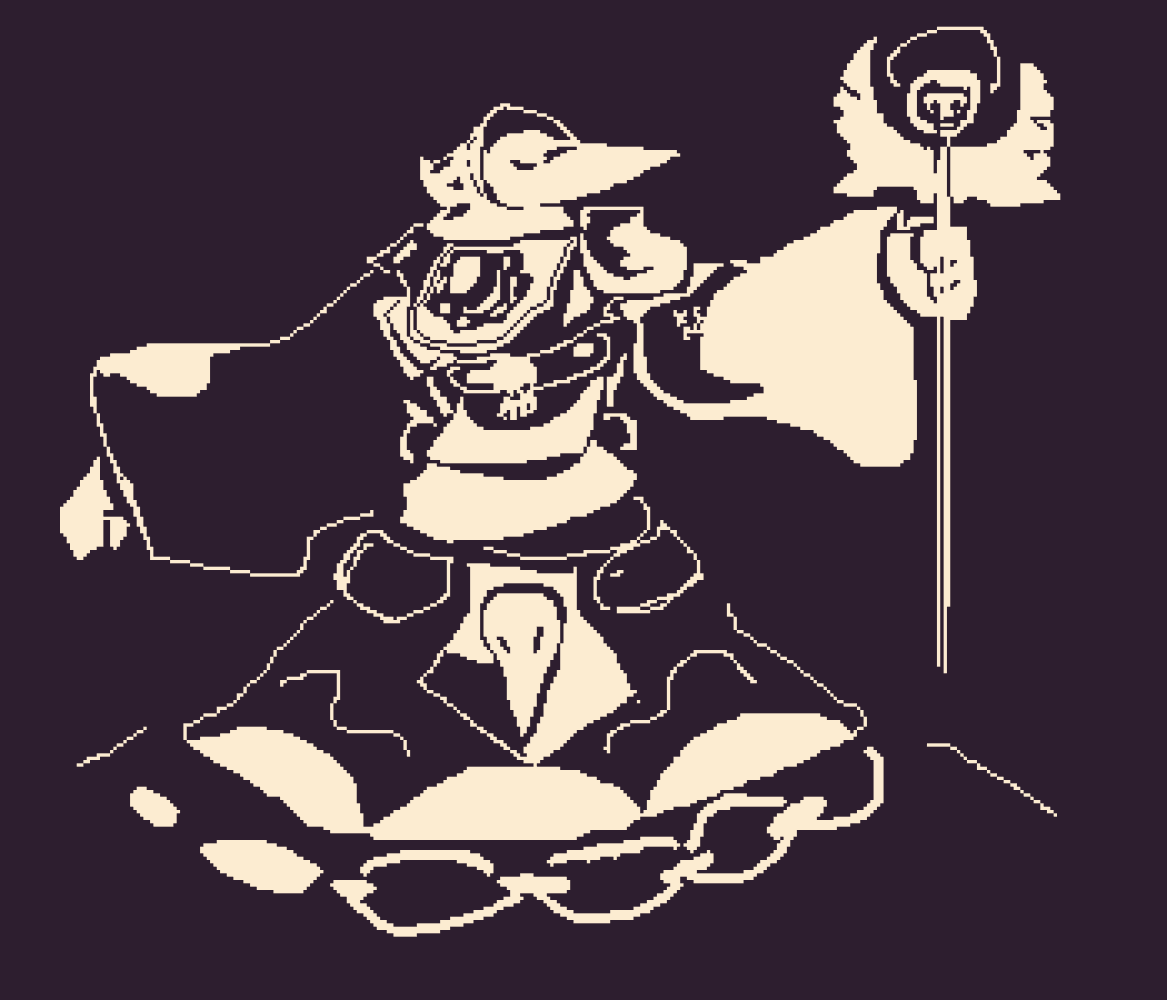 [forums.terraria.org]
Lunatic Cultist by xenobucket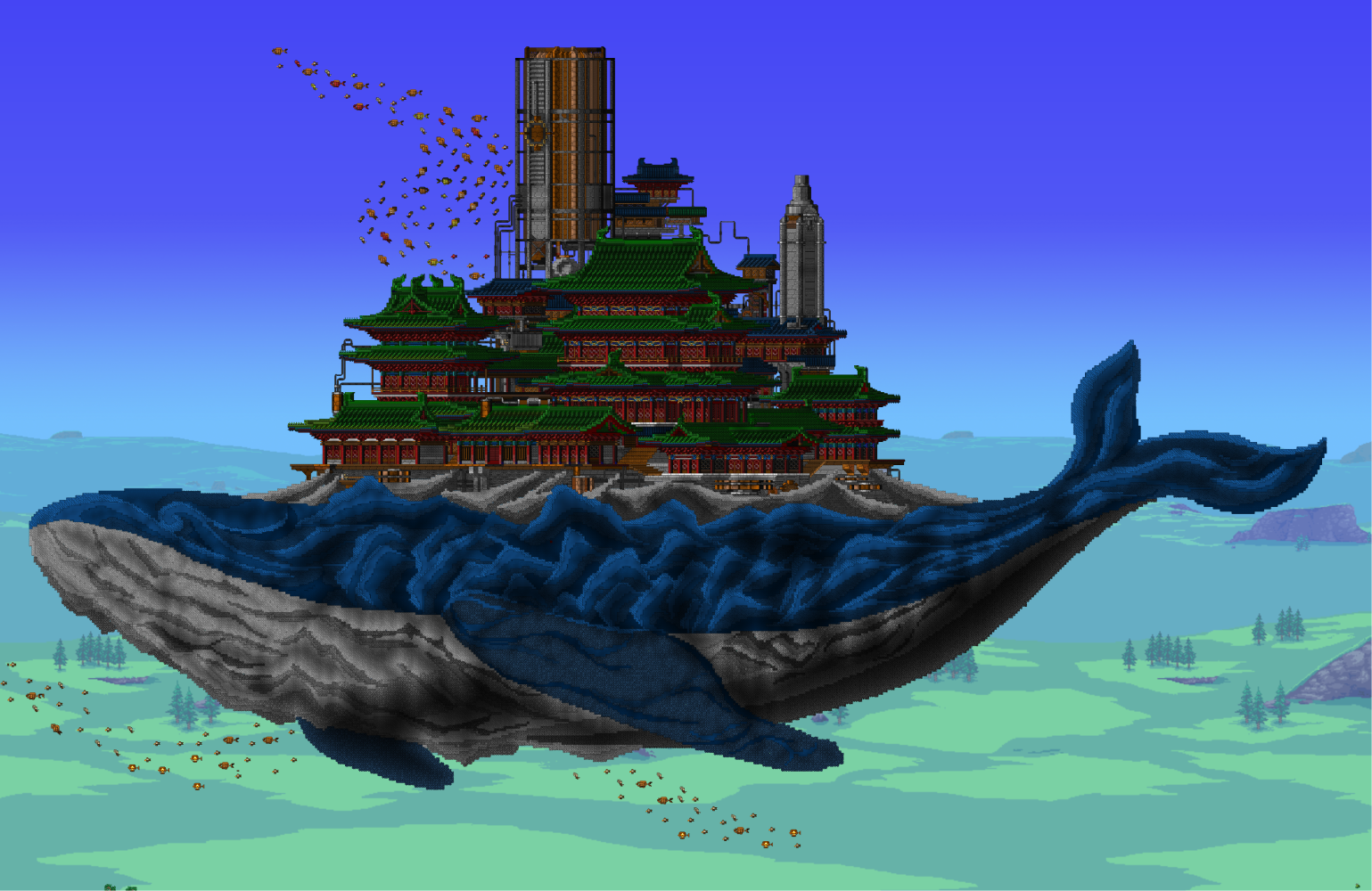 WHALE by OrientalOrange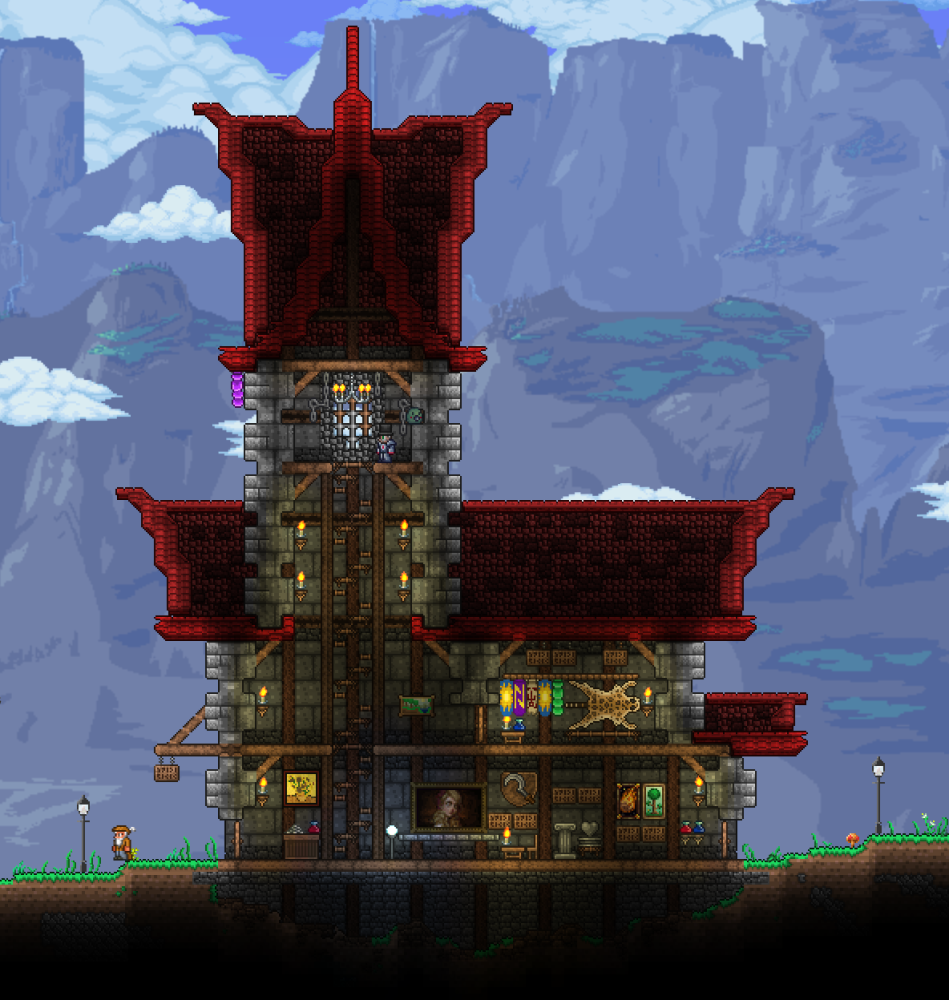 [forums.terraria.org]
Merchant's Pawn Shop by Weed_man420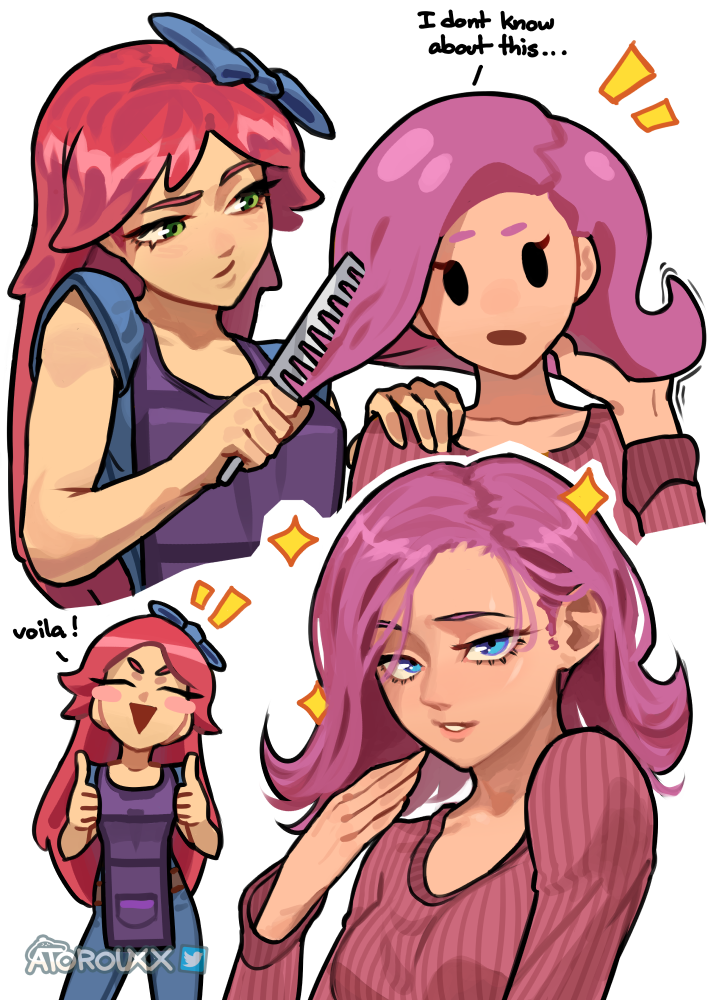 Stylist & Party Girl by BloodyArt1st
[forums.terraria.org]
Desert pylon by Tor14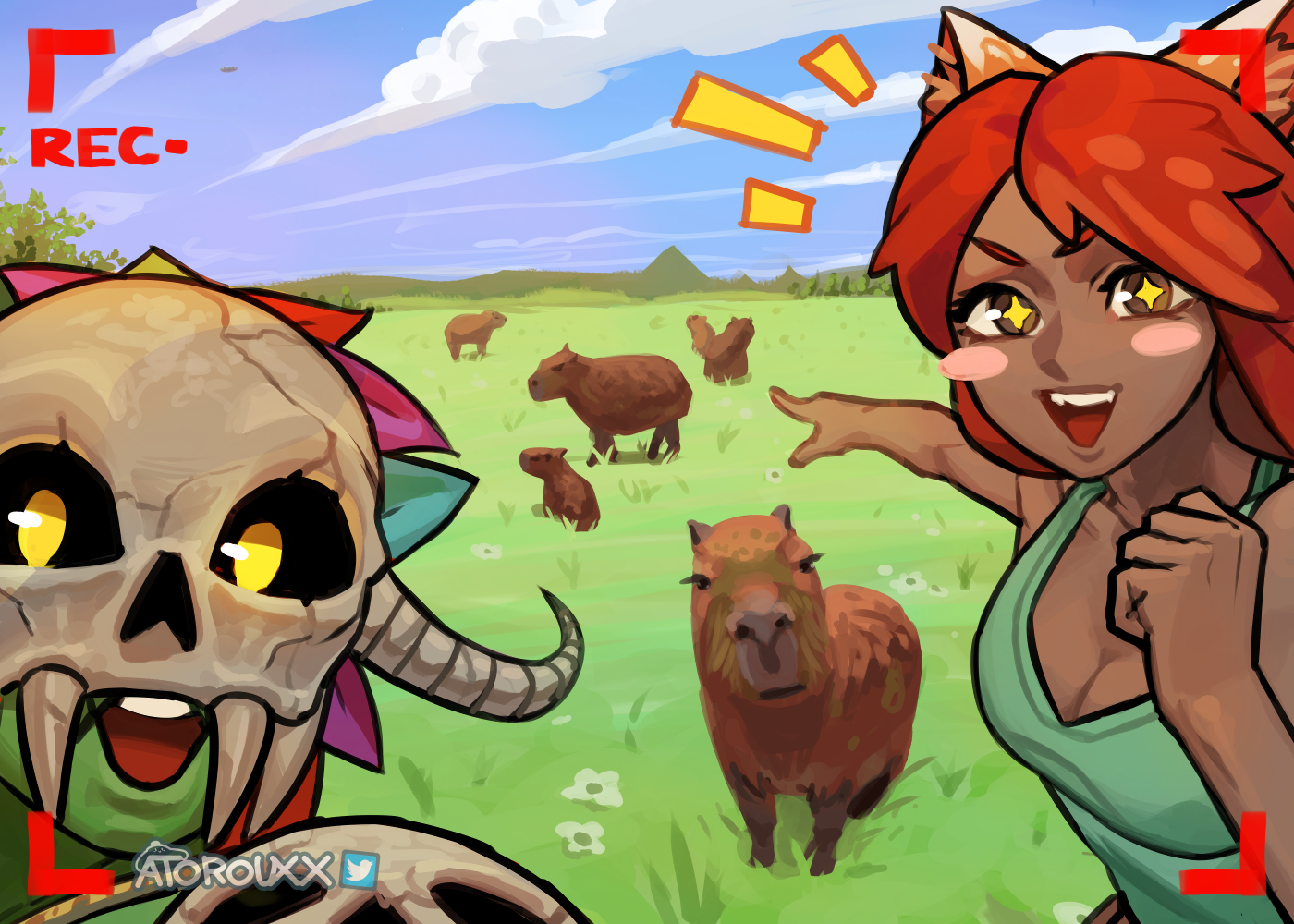 Witch Doctor and Zoologist by BloodyArt1st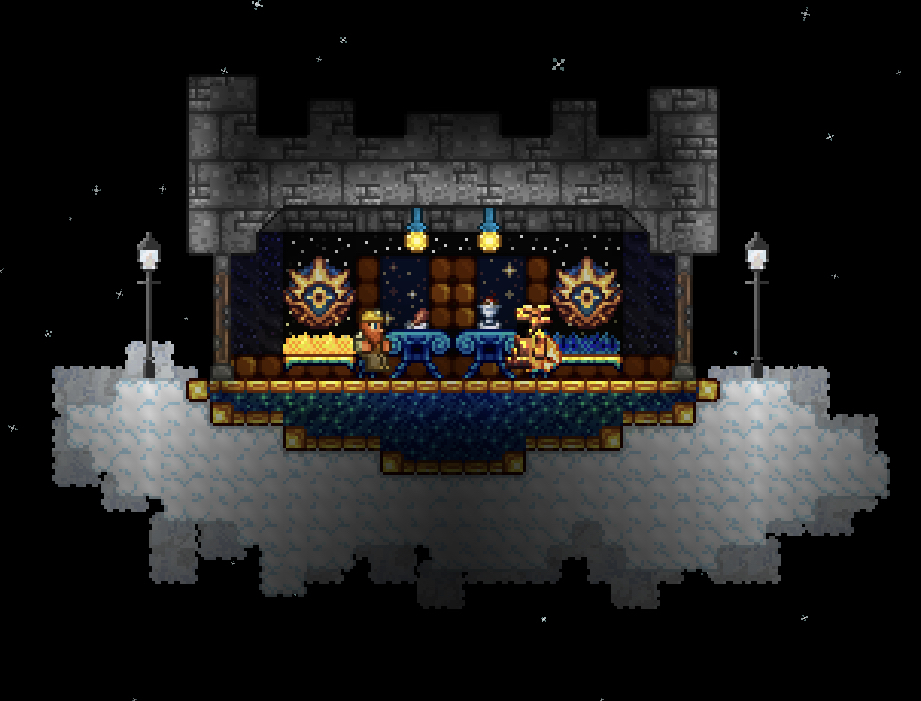 [forums.terraria.org]
Dining Heaven by Ostean
TERRARIA GUILDS FOR HOPE CHARITY FUNDRAISER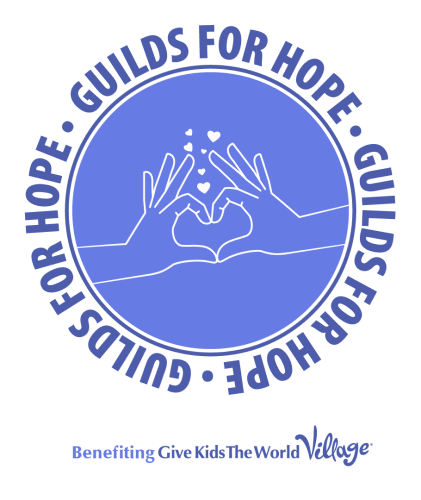 There is still time to participate in the 2023 Guilds for Hope charity fundraiser. We're teaming up with many other communities to raise money for Give Kids The World, a highly respected non-profit that fulfills many of the wishes for the Make a Wish foundation. 100% of all funds raised are processed by the charity and go towards helping children with critical conditions.
Follow the link and participate today!
Link to Guilds for Hope 2023 Event
[tiltify.com]
If you are interested in learning more about the Guilds for Hope charity event then please join the #guilds-for-hope channel in the USDA server located at Join the United Servers of Discord Alliance Discord Server!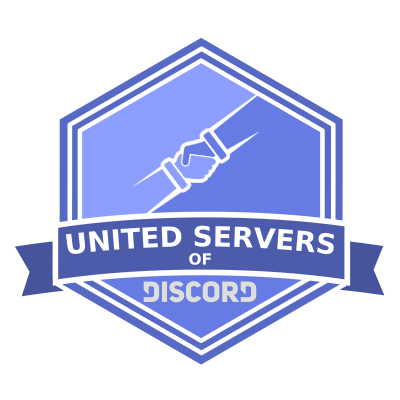 Until next time, Terrarians - we hope you have an amazing month, and we look forward to bringing you the latest and greatest next time!
Click here for the source of this article
RSS Feed