Terraria x Madrinas Coffee Collaboration Launches Today!
Posted on August 15th, 2023 11:10 AM EST

Greetings, Terrarians!
We are very excited to be able to at long last share a very unique partnership that has been in the works for some time now - Terraria x Madrinas! That's right, we have been working hand-in-hand with our good friends over at Madrinas to create some unique coffee flavors that we hope everyone will really enjoy! It has been a lot of fun trying out flavors and bouncing ideas off of each other, and we are pretty pleased with how it all turned out. Besides, who doesn't need some extra fuel for those late night (or early morning) Terraria sessions? That one more cave beckons!
If you are not familiar with Madrinas, they are a well-known coffee company focused on providing innovative new coffee flavors while using only all-natural ingredients. From Whole Bean to Cold Brew, they aim to have a coffee out there that is right for everyone.
All in all, we have two cool flavors to share with you here: one based on everyone's favorite 500 year old nature spirit, the Dryad - and the other seeks to answer the age old question of what exactly does a Pigron taste like? The team at Madrinas has also put together a really cool collector's box set that has both flavors and some other goodies as well. So without further ado, grab your favorite mug or shaker cup and let's dive in to Terraria x Madrinas!
As always, simply click on a product image to head on over to purchase that item, and we have listed each of these in our very own Merchandise Hub at
Terraria.org/Store
.

[madrinas.coffee]
TERRARIA x MADRINAS LIMITED EDITION COLLECTOR'S BOX SET
[madrinas.coffee]
This is the cornerstone of the Madrinas x Terraria collaboration! Included in this amazing Box Set are both of the new coffee flavors: the Dryad's Wild Honey Cold Brew and Pigron's Maple Bacon Whole Bean. Inside the box you will also find a Terraria shaker bottle (perfect for mixing up that Wild Honey Cold Brew) and a Journey's End inspired koozie. This is the one to pick up if you want to give all of what Madrinas x Terraria has to offer a try! This will be a limited edition, so be sure that you get yours before it's too late.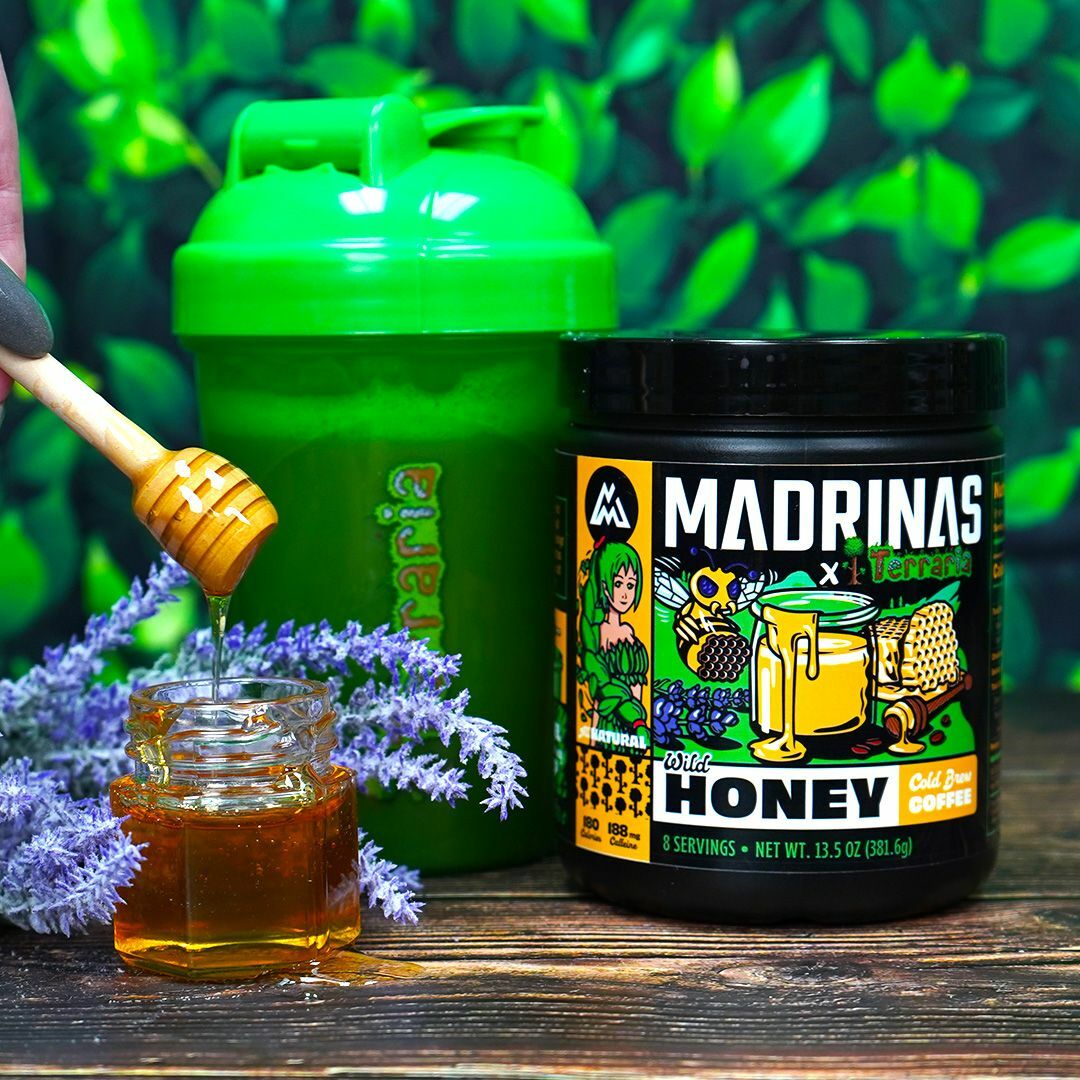 [madrinas.coffee]
DRYAD-INSPIRED: WILD HONEY COLD BREW
[madrinas.coffee]
Direct from the jungles of Terraria, and blessed by the Dryad herself, the Madrinas x Terraria Wild Honey cold brew will keep you on your toes as you delve ever-deeper in search of the Jungle Temple or the beautiful-but-deadly Plantera. This perfect flavor pairing of honey and a hint of lavender will arrive ready-to-craft it at home in less than a minute! All you need is a shaker cup.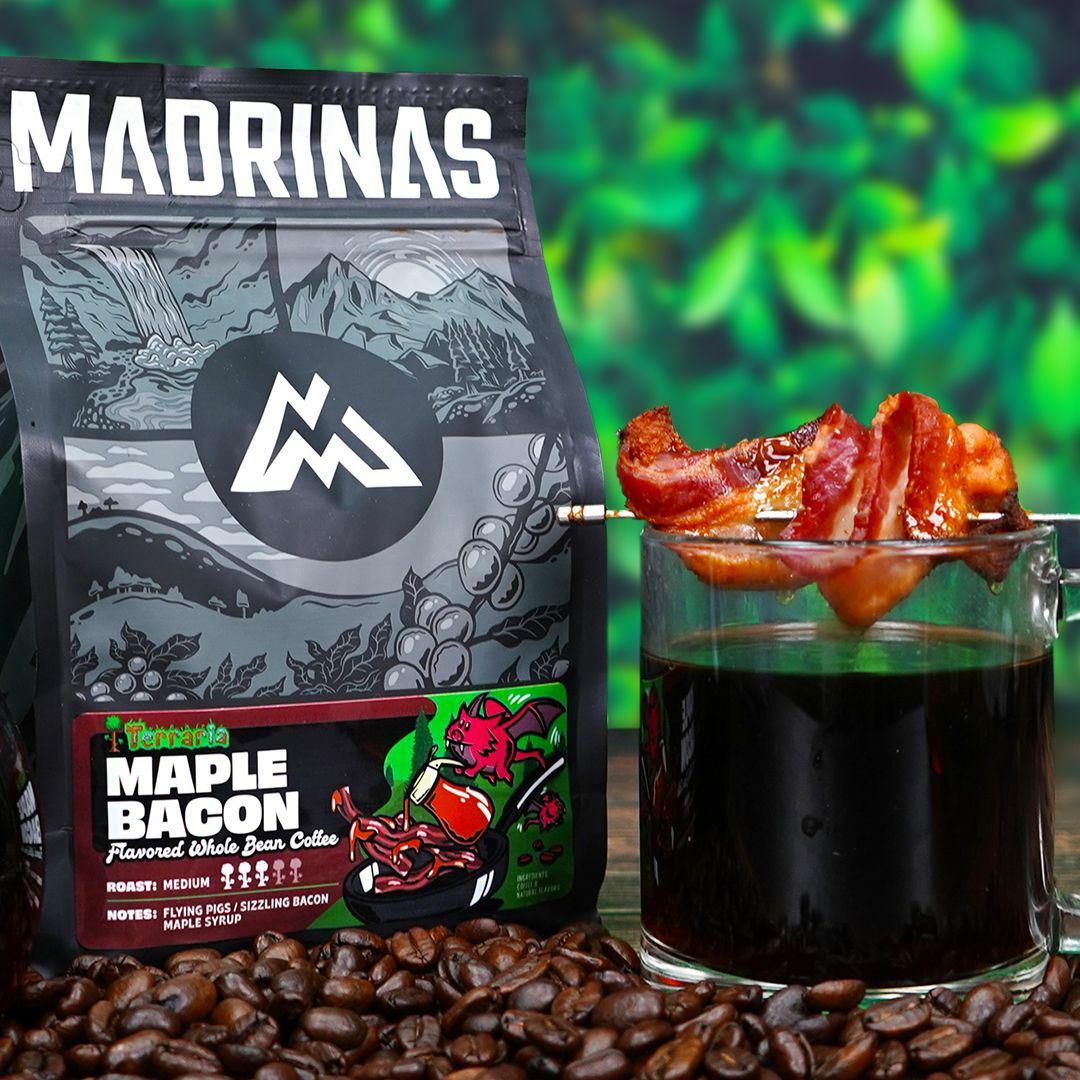 [madrinas.coffee]

PIGRON'S VERY OWN: MAPLE BACON WHOLE BEAN
[madrinas.coffee]
From the lair of the iconic Pigron itself comes the new Madrinas x Terraria Maple Bacon Flavored Whole Bean Coffee! Its perfect combo of sweet and salty notes with a smoky smooth finish will help you keep your wits about you as you battle half-pig/half-dragons or whatever else might come your way!
As always, we cannot thank everyone enough for their support, we hope that you will find these latest Terraria products as amazing as we do and pick some up for yourself! Be sure to check out the
cool products we launched last Friday from Eighty Sixed
[forums.terraria.org]
as well!​
Click here for the source of this article
RSS Feed